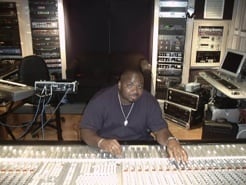 The Architect Media Group is an independent entertainment company located in California. It is the ideal entertainment company for new artists to develop their talent from music production to music video to a polished and marketable product. At The Architect Media Group we have an in-house digital studio that allows us to focus on the production that is needed. We intend to use the internet as a big part of marketing, promotion and distribution.
At The Architect Media Group part of our focus is to produce soundtracks for film, television and video games. Our company will become the center of attention for writing, producing and filming compelling television and films while keeping production costs at a minimum. To this goal, we intend to tap into the always growing population of undiscovered talented actors, singers, models and musicians, who despite their talent, have not been recognized by Hollywood. The Architect Media Group in association with Fitzhugh G. Houston from Houston Spectrum Unlimited. And Drew W, Delaine from

DELA Entertainment Productions joined to blend our expertise in film making, music and technology to create great entertainment products for the world. At this time we are in the process of developing film, television stories and video games forming connections with gaming companies.
As founder of The Architect Media Group, my Julian H. Reaves aka "Lord Julian" a music producer. Music production styles range from R&B, Hip Hop, Rap, and Jazz. I've worked with Mr. Clifford Frelix Jr. of Mo-Mac Entertainment and Co-Owner of Trak Makers Musique with Julian H. Reaves. John Jon Robertson of Yab Yum Entertainment,. I also co-produced the song (Victim of your Love) with Joe Love and Marc Nelson from the group Az Yet and Daryl Spencer for MCA Publishing. I also did remix for the group Ideal, Snoop Dogg, Dan Black, Mickey Factz, Peter Gabriel, Xzibit. Working in the Studio with people like: John Jon Robertson 2X Grammy Nominated Multi -Platinum Producer, Maurice Carmon Grammy Nominated Song Writer, Wanya Morris of Boyz II Men and KC & JOJO of Jodeci, Dalvin DeGate of Jodeci, just to name a few, gave me the knowledge experience to develop artists.
The Architect Media Group
Distribution by

KMG Powered by The Orchard
Amuse, UnitedMaster, Distrokid, TuneCore
Julian H. Reaves (Lord Julian)
California
909 447 9690

Trak Makers Musique
Julian H. Reaves (Lord Julian) Mr. Clifford Frelix Jr (Mr. Frelix)